You can deploy your meteor app to NodeChef cloud hosting by uploading the output of meteor build, using GIT or the NodeChef CLI.
---
To use this deployment method, you must first run the build command locally as seen below.
meteor build <folder_name> --architecture os.linux.x86_64
From the command prompt (windows) or terminal (linux, mac) build your app using meteor build for os.linux.x86_64.

If you intend to use the --server flag which requires the <host>:<port> value, you can retrieve this value from the dashboard after you deploy your cluster in Step 1 by clicking on Deployments → Deployed Apps → Cluster Actions → Deploy app. If the assigned endpoint to your app is "https://simple-todos-1.nodechef.com", the host address of your app is then "simple-todos-1.nodechef.com" and the port is 80.
After building your project from Step 2. You will will be able to upload the output of your project build to your App containers. You can always find the form to upload your project from the dashboard by navigating to the task manager → App actions → Upload code.
From the upload form, under App code, select the output tar.gz file that was generated from the build.
In case you wish to deploy your app with meteor settings. You can select your meteor settings file from the upload form. If using a remote database (That is, a database not hosted by NodeChef), you must set the MONGO_URL and the MONGO_OPLOG_URL (optional) in your meteor settings file.
If you have settings.json file, you can simply select to include it as part of the deployment as well.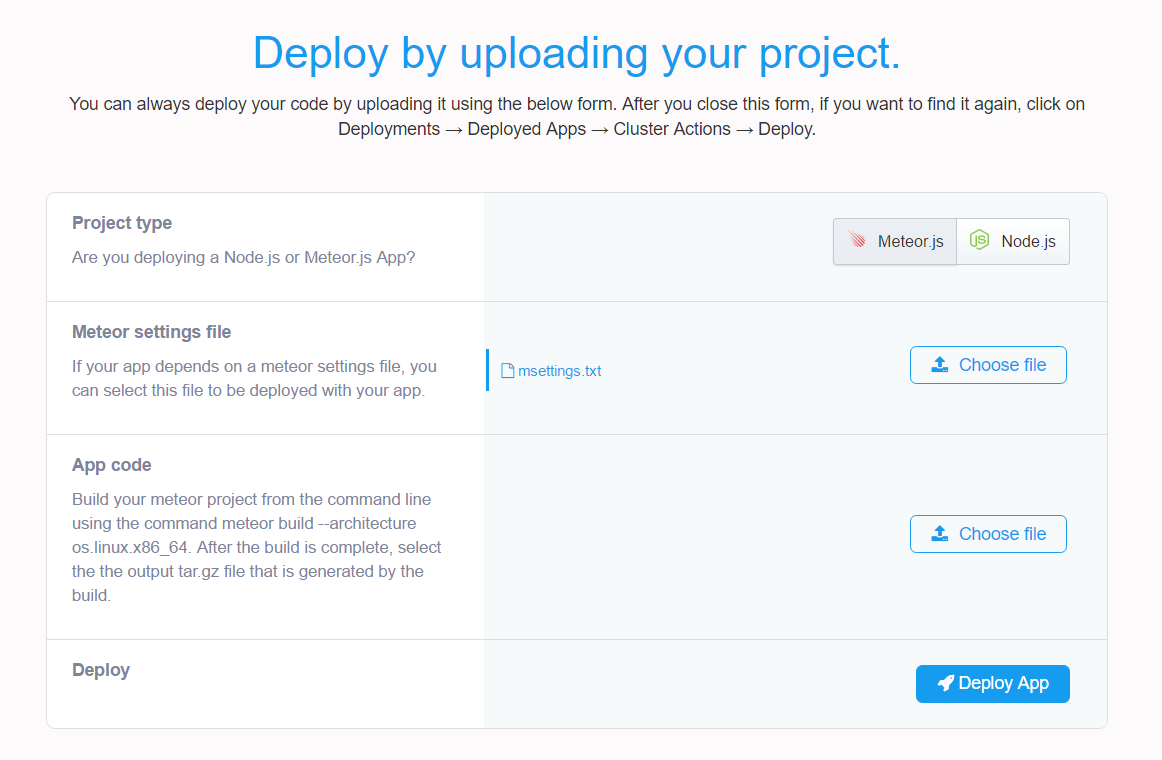 ---
Firstly, if you did not sign up for a NodeChef account using a GIT repo provider, you must authorize NodeChef to access your GitLab, GitHub or BitBucket account. You only have to do this once per NodeChef account. Click "Connect to (repository)", a shown below to start the authentication.


After you link your Account to a Git repo, you can selectively deploy from branches as well.

---
Install the NodeChef CLI from npm as showm below:
npm install -g nodechef-cli
CD into your project folder and use the below command as seen below. You will have to login from the command line to deploy or use a deployment token if you generated one from the dashboard.
// Log in using email and password instead of a deployment token. nc login prompts for your credentials
nc login
nc deploy -i my_first_meteor_app -meteorsettings settings.json
Use the optional -meteorsettings switch to specify the absolute or relative path to your settings.json file.